Teens' mindsets behind the wheel
The reality of distracted driving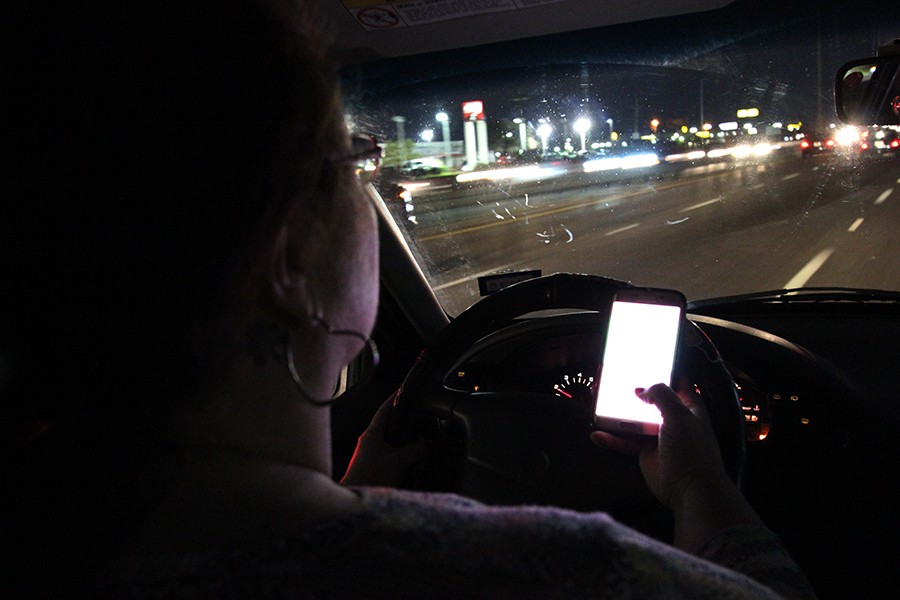 Distractions while driving have resulted in thousands of deaths and hundreds of injuries. The National Safety Council observes April as Distracted Driving Awareness Month to bring awareness to the issue.
Current driver's education teacher, William Grogan, is in agreement with distracted driving being an issue among teens.
"Distracted driving is a serious issue among teens and adults," Grogan said. "Whenever a person's eyes [or] mind are away from the driving task, the person is putting everyone else around them at risk."
Sophomore Celio Chavez, who currently doesn't have a license or permit, agrees with Grogan that there's a problem with teens getting easily distracted while driving.
"If you watch the news, you see all these accidents with teenagers caused by distracted driving all the time," Chavez said. "I think it's very dangerous and reckless."
There are many different reasons that can be linked with these distractions. One that Grogan believes is a large distraction is drivers accessibility to their electronic devices as well as their emotional development that lead to the distractions.
"Accessibility to the cell phone mixed with a sense of immortality…the 'it won't happen to me' mantra [puts drivers at risk]," Grogan said. "Our society as a whole has become an instant gratification powerhouse in this age of technology."
Senior Elise Emberlin, who has a license, also thinks cell phones are the key issue.
"I feel like teens get distracted easily due to cell phones and they don't know how to stay off them while driving," Emberlin said. "They think they can multitask while they drive."
Sixty percent of accidents involving teens are from distractions. If the ban of using handheld devices while driving is implemented statewide, it could lower these numbers and possibly save lives.
"The focus in the car should be driving, arriving safely and returning to our loved ones, not posting to Instagram about how awesome I am at driving, or why driving frustrates me," Grogan said. "Sixty cities in Texas already have a cell phone ban."
Students can sign up to take driver's education classes with Grogan, but it's not offered as an elective. For Grogan, bringing the class into the school as an elective could make students more aware of the issue.
"If the high schools in LISD could include driver's education as an elective, then the schools could have a direct connection to the teen population," Grogan said. "The schools could team up with local law enforcement, insurance agencies and the Department of Public Safety to create a community involvement."
Although the City of Lewisville doesn't currently have a ban on texting while driving, some cities in the DFW area do. The Denton City Council placed a ban on texting while driving, but now it is considering implementing tougher rules to prevent distracted driving. The council members agreed to ask the city's Traffic Safety Commission to review Denton's texting ban, and to possibly implement a new ban on the use of any handheld device while driving.
Sometimes questions are raised as to if the legal driving age should be raised, but Grogan believes 16 is a good age to get a license as long as safety comes first.
"The driving age should not be raised," Grogan said. "More education and community focus should be addressed. Parents also have a huge responsibility to teaching the children by providing a positive example."