Inventing new business models
INCubator program kicks off first year of operation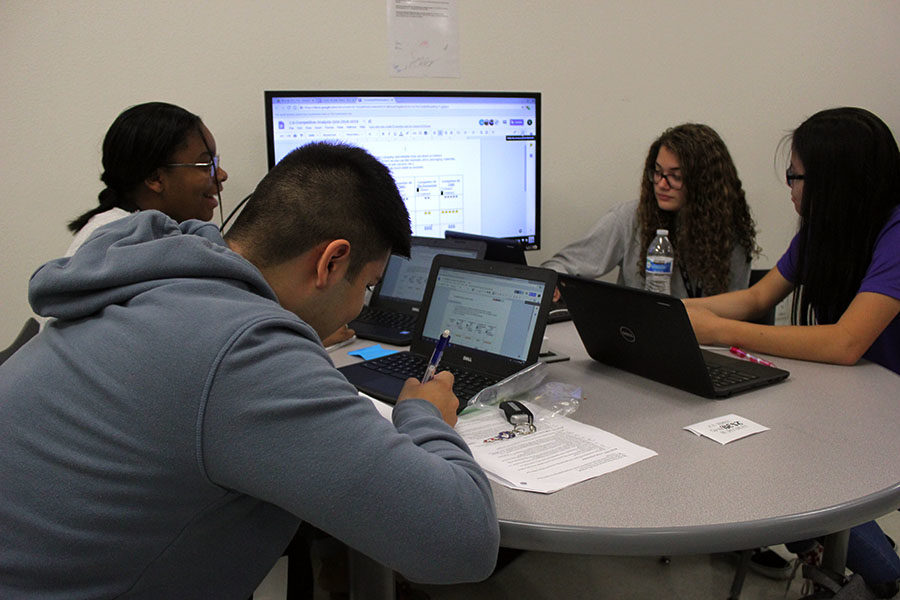 Chilling silence. Twiddling thumbs. A feeling of great tension hangs in the air as teams wait for the final verdict. At last, the Board of Investors comes to a decision.
"Team A, you have earned the $10,000 grant."
Cheers erupt from the group of five teenagers. Hugs and high fives are handed out generously within the team. While greeting the judges, the young entrepreneurs contain their joy and exchange professional handshakes, along with 'thank you's to the judges' praise.
This is the moment all students currently enrolled in the INCubator program have dreamed about since the day class began.
INCubatoredu, the newest business management course available for juniors and seniors, is a national program working to take grade school-aged youth and mold them into the businesspeople of the next generation. INCubator does this through practicum-based curriculum that encourages the students enrolled to transition into the real world and put the material from the course into action.
"INCubatoredu was created to give students real-life entrepreneurship experience where they're going to have a Shark Tank-like course in here," INCubatoredu teacher Valerie Cooper said. "We're going to learn everything that it takes to create a start-up, and then the students are going to create a product they will pitch for seed money. They'll take that seed money and then they'll create the product or service, test it in the market, and then at the end of the course, they have to do an academic pitch where they will propose their entire business plan and model, hoping for a chance to be able to pitch at the MCL Grand in May for investment money."
As part of the curriculum, members of the community who have experience in the business field come into the class and assist Cooper with teaching the topic they have experience in. The experience they have varies from corporate law to human resources to sales representatives. These community members serve as coaches and mentors, guiding the students through the curriculum and answering questions.
"[The coaches] are actually coming in from the community," Cooper said. "We have a community champion who goes and speaks at rotary clubs, summit clubs and business meetings. He brings in people that are experts in whatever topic that we're learning during that time. It's a really cool opportunity for the community and the school to partner together for these students to make relationships that will follow them."
The coaches and mentors provide insight and advice to the students through their personal experiences in the business field. They teach the students how to avoid repeating mistakes and how to work in a professional environment.
"I support the learning," INCubator coach and mentor Perri Brackett said. "We, as outside mentors and coaches, bring the real world into the classroom. I don't look at it as teaching, I look at it as supporting the learning with real-life examples."
"
It's a really cool opportunity for the community and the school to partner together for these students to make relationships that will follow them."
— Valerie Cooper
INCubatoredu is effective in preparing students for working in the real world because it requires students to think outside of the box in order to solve problems. They must use logic and problem solving skills to improve their business models and better their strategies.
"It's not just for if you want to be an entrepreneur and launch a product," Brackett said. "You learn how to work in teams, different working styles, how to move a project forward and how to interact with adults."
The entrepreneurial strategies learned in class, such as how to speak and work in a professional setting, will follow these students throughout their careers in business. These strategies will assist the students in marketing their products and forming their business models.
"It's way better than a normal classroom because I feel like I can actually take what I'm learning here to what I actually want to do," junior Sam Akisanmi said. "It's not just the teacher herself; we're always learning from coaches and mentors and they're super helpful."
The students enrolled in the INCubatoredu program will have several advantages over classmates who don't receive this experience, including learning through teamwork, developing complex knowledge of the business industry and gaining confidence in public speaking. These advantages will serve these students in the business world and allow them to advance rapidly in their careers.
"What I love about this program is that I took this class, and I did this project, but not until graduate school," Brackett said. "So just think if I had this opportunity in high school how much further ahead I would've been."