Voices for diversity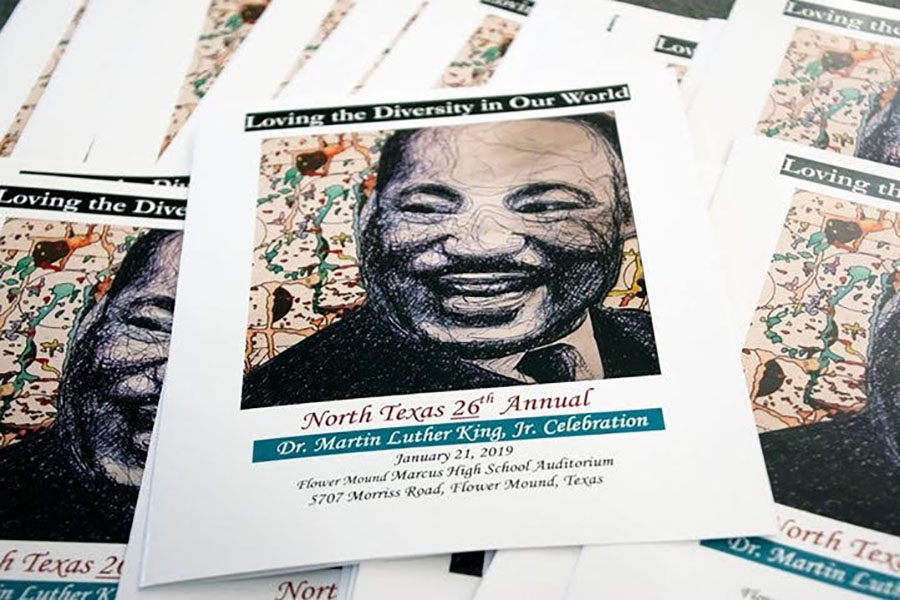 The Dr. Martin Luther King Jr. Essay, Art and Photography Contest winners were announced on Thursday, Jan. 10 and were recognized at the 26th annual LISD Dr. Martin Luther King Jr. Celebration held on Monday, Jan. 21 in the Marcus High School auditorium. The winners ranged from elementary students to high school students who all entered their pieces with the same underlying theme: loving diversity in the world.
Between Harmon, Killough and Main there were a total of six winners, including senior Uk Lian Mang who received second place in the essay portion and freshman Hyung Lee-Kim, who received second place for her art piece. Students, like Lee-Kim, have been preparing their art pieces, essays or photographs for more than a month with the help of their teachers and advisers.
"I did a graphite pencil portrait that, in total, took about one month [to create]," Lee-Kim said. "Along with entering the piece, we had to write a paragraph [about] what [the piece] symbolized."
Lian Mang did not expect to win or even participate in the contest. He had previously heard about the contest but never thought of writing an essay and going through the submission processes until a day before the deadline.
"I was just looking through my old [work] and I saw this one sentence that I wrote," Lian Mang said. "I showed Mrs. Squibb and she [told me] 'Oh you could enter that contest' and I just finished the essay so she turned it in that same evening."
Speech and debate teacher Sally Squibb has been helping her students enter and proofread their essays for more than 10 years. She has seen students' confidence rise after entering the contest and being awarded for their pieces.
"Aside from the cash they win, [contest winners] actually can have their self-esteem improved and benefit from accolades and compliments about their personal creations," Squibb said. "I think a lot of fears of expressing opinions disappear after they get through the first stage of putting themselves out there."
Lian Mang now realizes how important this contest was for him. Although his entry was unplanned, participating in the MLK Essay Contest has made a huge impact on his senior year and has become one of his greatest high school accomplishments.
"I recommend entering this contest, especially if you're from a minority background," Lian Mang said. "You have the point of view, like a first person point of view, of what it's like to go through discrimination."
The theme of loving diversity was apparent during the celebration, with more than 60 students recognized in the ceremony. Students were even dressed traditional in clothes from their culture.
"It was amazing to see and experience because it wasn't just me," Lian Mang said. "There were a lot of people from different cultures truly being proud of being part of a diverse community so it was great."
Squibb believes it is important for students to participate in this contest because of the way she has seen it impact students and how it helps maintain the idea of love and diversity in schools and the community.
"Everyone has a voice that needs to be heard, read, or expressed in various [methods]," Squibb said. "This expression helps keep the ideals of Martin Luther King Jr. alive, and when we help keep his wisdom alive, we help improve our personal political philosophy."