Commanding to higher ranks
NJROTC competed at first drill meet of the year on Friday, Nov. 1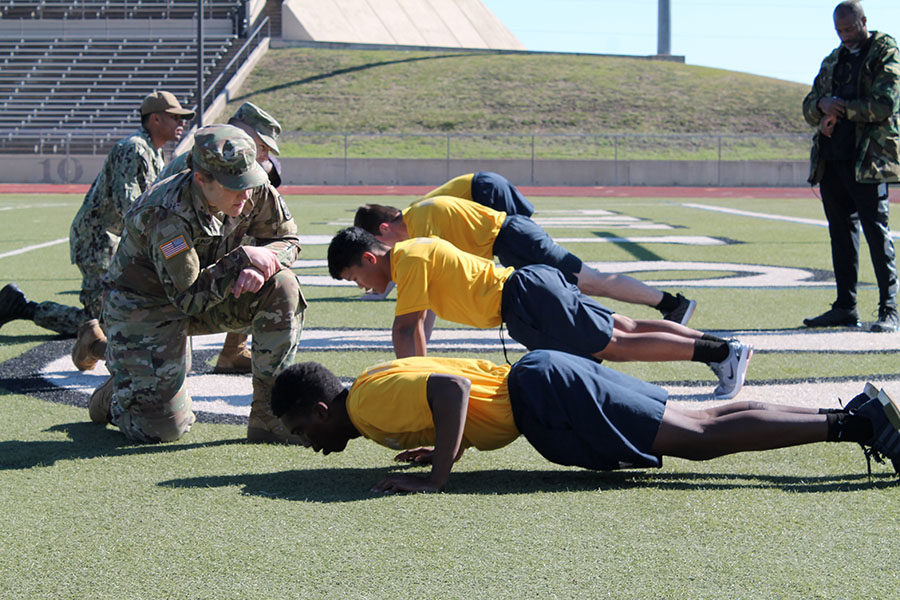 Shouts echo throughout the stadium from the student leader, commanding the group to do various actions in sync and with precision as sergeants and petty officers observe them. Each cadet is filled with determination to keep pace, no matter which group they are in. They work to place in a high ranking above their competition. Even as they see their low evaluations, they continue to practice improving for the next drill meet.
NJROTC students competed at their first drill meet of the year, the Cowtown Classic Drill, on Friday, Nov. 1 at Wilson Greines Activities Center in Fort Worth. The NJROTC students go through a series of different competitions, such as physical or academic to drill performances where groups compete against other schools.
"We spent a lot of time getting [the students] ready," NJROTC instructor captain Mark Ortiz said. "Every single one of these routines they have to do are very precise and they take a lot of work to get everyone to do them with precision, coordination, discipline and bearings."
The purpose of the drill meets are for students to establish the ideals the NJROTC program teaches, including teamwork, discipline and thinking beyond oneself. The goal of the program is for students to develop into well-rounded citizens.
"We're all [in this] together [and] we're always making sure that if [a team member] messes up, we're going to do what we can to make sure we can help them," senior Angelica Herrera said.
The students were faced with the challenge of unfamiliarity. They competed in an Army-based drill meet instead of a Navy one. Being a Navy-based program, they had to adjust to doing different drills and using other terms for the Army drill meet.
"We had to learn a completely different drill card than we normally do," senior Ethan Crow said. "An example [of] one [is] a movement in color guard called a right wheel. We had to call it a left turn. Typically we say present colors to bring the flags, but they say color salute. We had to get accustomed to a completely different branch."
Other challenges persisted before the meet, such as a shortage of students for the team and completely cutting parts out of their routine, shortening the exposition. The female color guard team placed low with new members, while the armed team had to take freshmen for the varsity team to be able to compete.
"I had low hopes, but I was honestly surprised, we did good for what we were faced with," Crow said. "We had to get a bunch of freshmen who have never spun or touched a rifle before competing standards. The armed team is a little bit more intimidating than unarmed because you can get really hurt in armed. So [new students] go to unarmed [instead]."
Even as the group's evaluation put them in a low placement, Ortiz believes they are at the right place to continue improving and place higher at the next drill meet, the Sea Dragon Classic, on Saturday, Dec. 7 at Southwest High School in San Antonio. The NJROTC students will continue to work for the next drill meet, even if they don't succeed in getting a spot in the team.
"The very next step is looking [at] how we did as we broke down the scores and placements with all the different teams and immediately [start] looking at what we could improve and what's next," Ortiz said. "We're highlighting those differences to make sure that we take what we have now and make us that much stronger in this upcoming drill meet."